If you haven't bought a ticket yet
Use the filters on the left of the page while searching.
Select "Baggage included".
That way we'll only show you offers including baggage.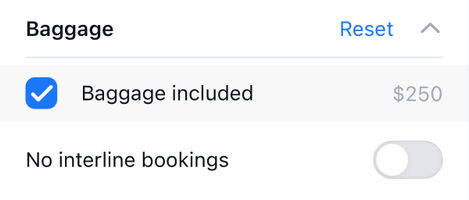 If you've already bought your ticket
There are several ways to add baggage to a purchased ticket.
Check for an "Add baggage" option on the seller's sight. The seller's name is in the itinerary receipt (ticket) that was sent to you by email. You'll also need your booking number from the receipt.
Contact the seller, tell them your booking number and last name and ask them to add baggage to your ticket. You can find the seller's name in the itinerary receipt.
Pay to add baggage at the check-in desk at the airport. However, this can be more expensive than adding baggage in advance.
Select the seller's name from the list. We'll give you the seller's contact information.
How to contact the ticket seller
Enter the name of the airline or agency to view their contact details
Why can't WayAway add baggage for me?
WayAway doesn't sell flight tickets. It's a service which finds the best flight options, but you pay for them through agencies and airlines. More specifically, this is how our service works: 1. You open the WayAway app, select your destination and travel dates, and press 'Search flights'. 2. You select the ticket you like best and press 'Buy'. 3. At this point you're redirected to the passenger details form page and you buy your ticket from the seller.